Emotionaid
EMOTIONAID /
2019


Emotionaid is a video chat app that helps people with facial paralysis to express emotions, by using eye tracking technology.
Facial paralysis patients often suffer from not being able to make facial expressions, and pronounce words clearly, since they cannot fully move facial muscles.


Demo- Calling
Video Call Screen
The app is also able to show captions while the user is talking, so it is easier to understand what the user is pronouncing.
Sometimes, we all say something that is opposite from what our facial expression is saying. We say "it's fine." even when we're not fine to make the others not worried. Emotionald enables facial paralysis users to do the same, just like everyone else do.
While the eye tracker is automatically analyzed and expressed for the user, the user can also choose to express what they want to express, even when the eye movement is conveying something else.
Demo- Eye Tracking
Eye Tracker Analysis
The app collects the data through the user's eye movements and comments that the user makes, in order to understand the expression patterns of the users.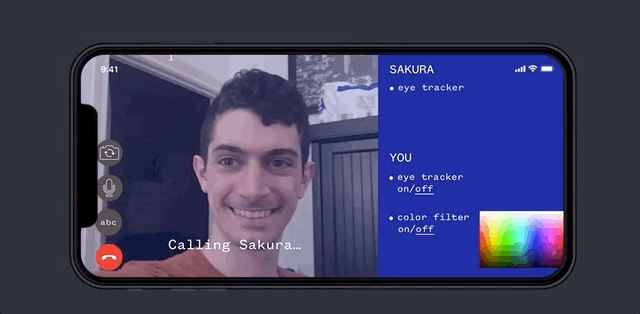 Demo- Calling2
Sketch Wireframes